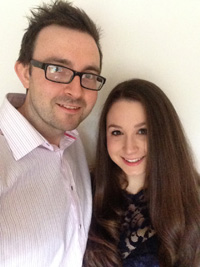 We established Animal Sitting in 2011 because, like a lot of people, we see our pets as our babies and we couldn't bear to put our dog Dillon into a kennels & our cats Pebbles & Mittens into a cattery.
We wanted to help fellow pet parents by providing services that offered an alternative to leaving their precious pets in a caged environment.
We have both always been big animal lovers, and we make their needs and happiness our number one priority. We have both been brought up in animal loving households, and have looked after many different pets throughout our lives, a lot of which have been strays or from animal shelters. We have a huge soft spot for all kinds of animals and we have both been vegetarians for a number of years.
Adam studied for his A Levels before achieving a BSc management degree from Manchester. He then went into advertising before he started Animal Sitting which he now runs full time.
Laura studied for her A Levels before achieving an LLB law degree from Manchester. She currently works at a solicitors in Altrincham whilst helping to run Animal Sitting.
Please get in touch using the contact form below or to the right if you would like to have a chat about us caring for your furry kids!